RWH galleries on this site
|
RWH holiday snaps
|
RWH home
---
Fotopic test
Utterly weird! Why does the Pearse object above fall down in Firefox? But when we add an earlier instance inside a <div>, then the totally unchanged object starts to work!
---
Photobucket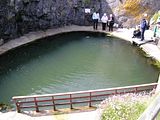 Photobucket was one of the image hosting sites I looked at following the apparent permanent demise of fotopic. I rapidly rejected it for: nauseating, flashing, jiggling adverts, print sales only in USA, etc. I am using it to host
just this image
.
---
rwhgal1.php
---
Wikilinks
All "wikilink" formats have htmlspecialchars() applied to the link proper, eg. & is converted to &, but not to any piped portion. Straight HTML can also be used in descriptions but it is output exactly as is.
starts
with
example
makes
notes
[http
[http://en.wikipedia.org/wiki/Levada levada]
levada
any external link with target="_blank". For this type the link/pipe boundary is space. All others use |
[[:lc:
[[:pt:levada]]
levada
Wikipedia links - lc = language code
[[commons:
[[commons:File:Santa Cruz 257.jpg|Santa Cruz]]
Santa Cruz
Commons link
[[*
[[*../madeira/madecd.php#senhora|Senhoras]]
Senhoras
any link - assumed "internal", ie. no target="_blank"
[[
[[095607|Paúl de Serra]]
Paúl de Serra
link internal to this gallery - uses global $gl_row['wl_pref'] which, for this example is set to '../phots/rwhgal1.php?g=ma&fmt=g&from='
[[#
[[#TQ8787 160]]
TQ 87 87 bearing 160°
Grid Ref. - taken from .. on bearing ..
[[#
[[#SK14858260]]
SK 1485 8260
Grid Ref. - 8 figure no bearing
[[#
[[#SK128835|Shivering Mountain]]
Shivering Mountain
Grid Ref. - piped
[[%
[[%60.447207 22.275692]]
maps
Lat/long - decimal degrees only
[[%
[[%52.151305 -10.477368 region:IE|Clogher Head]]
Clogher Head
Lat/long - three params and piped
---
Geograph API help
I keep losing the page which describes the APIs for Geograph. It is:
www.geograph.org.uk/help/api
---
Updating Geograph and uploads tables with Geograph images
which have not been uploaded by RWH
Create new items in the Geograph table. The fields width, height and path should be omitted.
Run geoglog.php. This will output some dummy SQL.
Edit qxq to ('gallery name', and add

INSERT INTO `uploads` (`gallery`, `filnam`, `notes`) VALUES

at the top.
Run the insert query. Run uplog.php to get the paths.
Run geoglog.php again. This will copy path, etc. to the Geograph table and geonum and nonRWH to the uploads table.
---
Remote use of 110MB images
---